How to Buy Ncell Data Pack | Latest Package 2021
---
---
Who has not tried to guess the Wifi password of our neighbours?
Let's be honest, we all have. But what if you don't have a wifi then? Hmmm- mobile data?
It is expensive and has a lot more limitations than wifi, we admit but it is also a good alternative when you don't have a wifi. Do you know how to buy the mobile data packs though?
Today we are going to talk about buying data packs from one of the top mobile service providers of Nepal -Ncell. Yes, there are a lot of controversies regarding Ncell but you have to admit, when it comes to fast internet- no one beats Ncell, even though it robs you of your money.
How to Activate Ncell Data pack?
Well the process is rather a simple one and all you have to do is type some numbers. But before you do that, you have to activate your mobile data service.
To activate data service on Ncell, you can either:
send a message A to 900224
OR dial 900 IVR and follow the voice message.
Or dial *100# USSD code and choose the required service.
Then once you have done this all you have to do is press *17123# and then follow the instructions given.
It shows the price as well as the amount of data and benefits that you will be getting along the data packs.
Ncell Data Pack 2021
Ncell is famous for ripping people off and bad network reception. However when you do have a good reception, the data is quite fast and when the data is fast, you use more of it. Keep this in mind while buying ncell data service. Now as for the data packs and prices they are as follows.
1. Non-Stop 4G
So this pack is ultimately meant for 4G networks and this pack contains
YouTube pack- only works on YouTube
1GB at Rs 31 per day
4GB at Rs 127 for 7 day
6GB at Rs 459 for 30 days
2. Facebook – only works on Facebook
This set of data plans is basically for those who can't stay off facebook for even a second, despite not having a wifi. The price for this data plan are as follows:
1 GB at Rs 31 per day
4 GB at Rs 127 for 7days
6 GB at Rs 469 for 30days
3. TikTok – only works TikTok
If you are someone who likes to dance and show your skills on tiktok this is the data plan for you. Dance your way with these data plans with the following price:
1 GB at Rs 31 for day
4 GB at Rs 123 for 7days
6 GB at Rs 459 for 30 days
4. YouTube and Facebook
This pack is meant for normal 3G or 2G data service and is only meant to work on YouTube and Facebook. If you use your data on anything else besides on these apps, you will use your remaining balance on your SIM card. The price are as follows:
4GB at Rs 191 per day
At Rs 22 per hour
5. Popular Packs
In this set of packs, you will get to see all the packs that are popular and Yes, this list is updated when any change happens on the popularity of the packs. The price plan are as follows
Rs 12 for 40MB + 40MB on 4G service for 1day
Rs 18 for 150MB per day
Rs 42 for 800MB per 3 days
Rs 98 for 1.5GB per 7 days
Rs 139 for 2GB per 14ays
Rs 249 for 3.5Gb + 3.5GB for per 30 days
6. 1 Day Data Pack
This is basically the data packs that you buy when the net goes out for a day and you don't really use the internet too much. These data packs are not meant to last long so don't expect them to last much. The price plans are as follows:
Rs 12 for 40MB +40B for 4G cell services
Rs 18 for 150MB
Rs 26 for 256MB + 768Mb (11pm-11am)
(168MB is basically a night plan as it is only viable from 11pm to 11 am)
7. 5 Days Data Pack
The last one was meant if you are at a place where there is no wifi or your wifi broke down for a few days, this is a good plan to have. The price plans are as follows:
Rs 37 for 120MB + 120MB for 4G data service
Rs 42 for 800MB
Rs 47 for 400MB + 1200MB (11pm-11am)
(similar to the previous one, the 1200MB is meant to be a night time)
8. 30 Days Data Pack
If you don't have a wifi but at the same time don't really need to use the internet too much, then this is the data pack for you. You get enough data and the price is quite reasonable as well. The price plans is as follows:
Rs 249 for 3.5 GB + 3.5 GB
Rs 399 for 6 GB + 6 GB
Rs 499 for 10 GB + 10GB
Rs 799 for 1GB everyday
9. Mero Plan
So the data packs on this set vary and are meant for people who are either spending too much time on social media or too less. You also have to note that this set of data packs are the ones that are a bit excessive or a misfit for other sets. So basically this set is a group of misfit data plans. The price plan are as follows: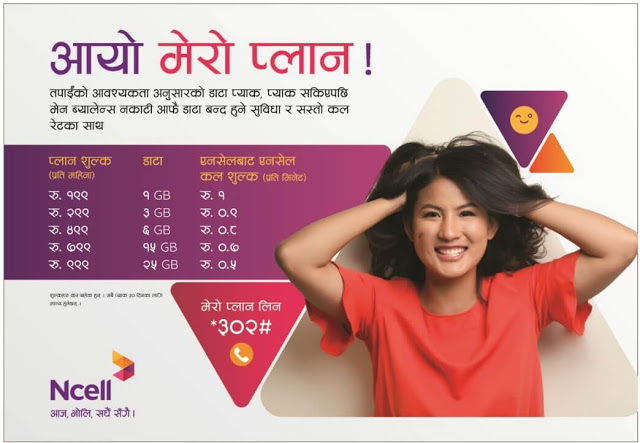 Rs 95 for 2 GB for 7 Days
Rs 127 for 4G Youtube and 4GB for 7 days
Rs 147 for 2gb per 15 Days
30 Data Pack part 2

Rs 246 for 3GB
Rs 381 for 6GB
Rs 637 for 15GB
Rs 980 for 30GB
Rs 1199 for 40GB
10. Triple Majja
This is a data pack basically meant for those who can't keep their eyes off Facebook, YouTube and TikTok. Why buy 3 sets of data packs when you can get all of their benefits on one right? Anyways here is the price plan for this set of data packs:
Rs 109 for 1GB everyday and 2GB for 7 Days
Rs 147 for 1GB everyday and 4Gb for 10 Days
Rs 459 for 1.5GB everyday and 6Gb for 30 Days
11. Lockdown Data Packs
Wifi is not the best during lockdowns and things get boring. Without the internet, there is not much to do. Sure you can do art or read books or work out, but you soon run out of things to do. If you have work from home duty, then you are in a lot of pain if the wifi goes out. So for this, Ncell has two sets of data packs. One for work from home and another for general use. The price plan for these data packs are as follows:
Work from home

Rs 31 for 2GB and 150MB all time data per day
Rs 127 for 14GB and 3GB all time data per 7 days
New – for general purpose

Rs 19 for 65MB per 3 Days
Rs 39 for 150MB per 5 Days
Rs 49 for 200MB per 7 Days
Rs 59 for 400Mb per 10 Days
Rs 69 for 400MB per 14 Days
Rs 79 for 550Mb per 21 Days
Rs 99 for 750MB per 30 days
12. Student Plan
A plan specially meant for students. In this plan, you will be buying MB without any time limit so you don't have a time limit. Ncell understands that as a student you don't have much money for data plans. The price plan are as follows:
student plan a – 325.60
student plan b – 455.85
student plan c – 716/34
Final Thoughts
What can we conclude at the end? Ncell has great data plans and quite a versatile one as well. However, Ncell service is something like all or nothing. If you get the reception good enough, you get a superfast internet that will churn through your data and if not, you get nothing. This is not all bad as for people in areas with good network reception – usually, in cities where they can afford most of the plans- you don't have to worry much but for those in the areas with bad reception – well good luck
Recommended links: